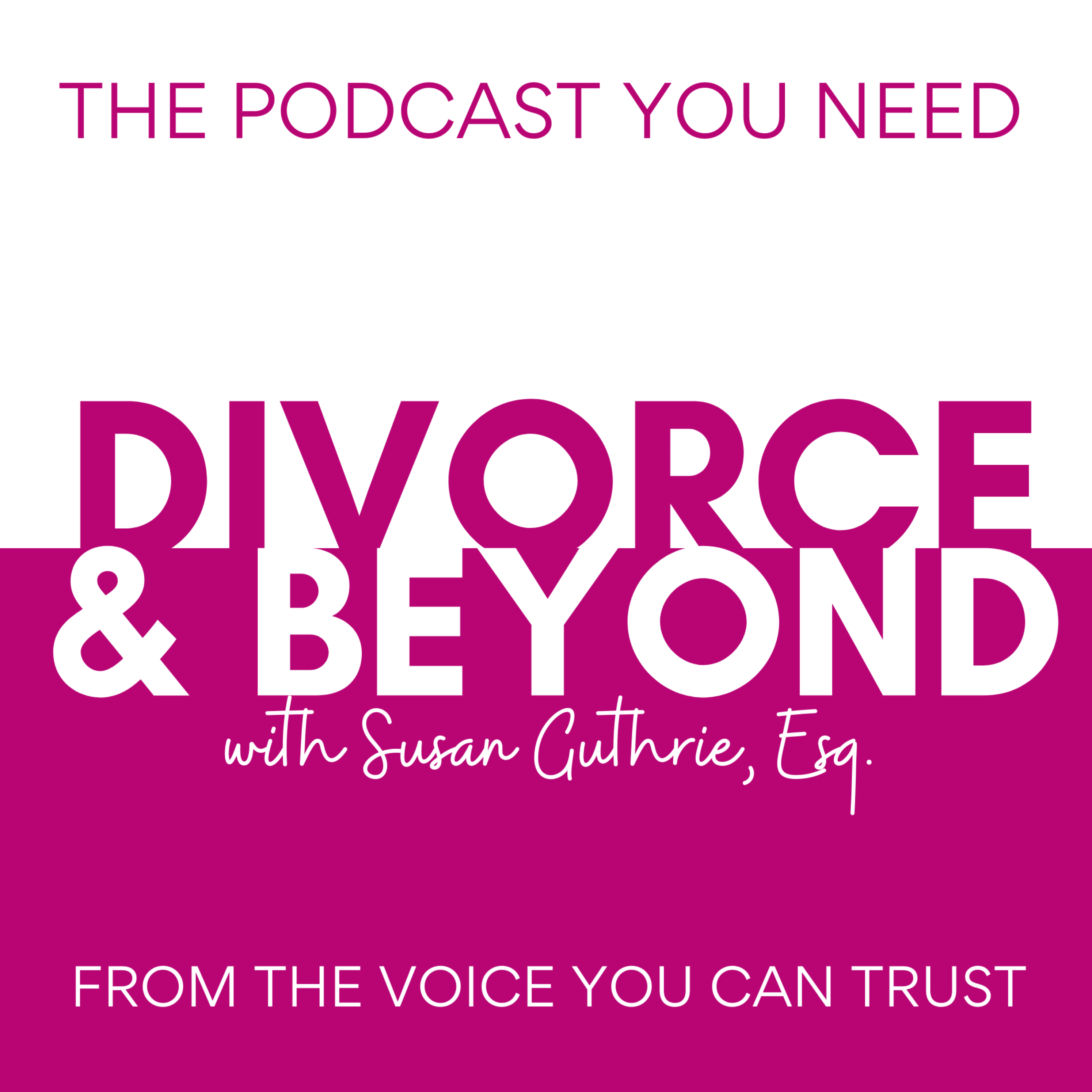 Nationally recognized family law attorney, mediator and award-winning podcaster, Susan Guthrie is at it again! After guiding countless numbers of people through the perilous world of divorce—and speaking to a podcast audience of over 4 million listeners—she's bringing you the "The Divorce & Beyond Podcast" to help you thrive in your life BEYOND divorce!
Episodes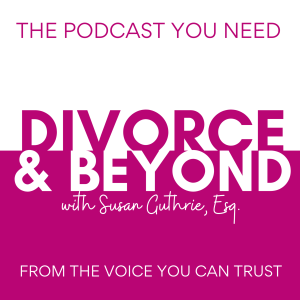 Monday Mar 13, 2023
Monday Mar 13, 2023
This week Susan Guthrie, Esq., invites Lisa McGregor back to the show! In this episode, Lisa shares lessons from her personal journey to becoming the best parent that she can be and why it has nothing to do with how much time she has with her child.  There is so much we can all learn from this episode!
Lisa McGregor is Co-Parenting Coach who is helping women embrace their new role of part-time parenting. Shared parenting can come with a mixture of emotions, including the fear of being eliminated from your child's life. Together, Susan and Lisa discuss how parenting time does not quantify your value as a parent. Lisa offers some insightful advice about creating awareness about part-time parenting and shifting your mindset in how you externalize and internalize your worthiness, value, and your child's time with you. Embraced, celebrated, and experienced differently. 
Topics and Golden Nuggets include
Your perception of the time you have with your child does not equate to your value as a parent

Mindset shifts to help you focus on quality over quantity 

Giving yourself permission to feel your emotions helps you to move through them faster

Tips for parents to make the most of the time with their child, as well as, how to utilize your time alone to heal
****************************************
About this week's special guest:  Lisa McGregor
Lisa McGregor is Co-Parenting Coach who is helping women to embrace their new role of part-time parenting. For nearly two decades, Lisa has motivated women to help them improve their lives by learning to love their bodies through diet and exercise. The first 17 years of her career were spent in the fitness industry. Still, after going through a divorce in 2017 and struggling to accept this unplanned chapter of part-time parenting, she felt called to show how she could embrace this journey and began to see this adjustment as a gift.  Lisa quickly garnered a community of women who resonated and were ready to use their own co-parenting journey as a catalyst to a richer life. Lisa empowers Moms to leverage their time away to turn less into more. Lisa has shared her story on several podcasts & across multiple social media platforms and helps women put it all into action as a Life & Hypno Breath Work Coach. 
Lisa's website: https://theunplannedchapter.com/
Lisa on Instagram: https://www.instagram.com/theunplannedchapter 
Lisa on TikTok: https://www.tiktok.com/@theunplannedchapter
The Unplanned Chapter Blog: https://medium.com/@theunplannedchapter

The Unplanned Chapter Private Facebook Group: https://www.facebook.com/groups/theunplannedchapter/
Mentioned in this episode:

It's All About #GettingtheGift with Lisa McGregor 
Parenting Plans Aren't for Parents: How to Create a Plan that Works For Your Kids with Top Parenting Expert, Christina McGhee
*****************************************
THANK YOU TO OUR SPONSORS: 
Thriving in divorce and beyond means not having to worry about the safety of your children when it comes to co-parenting. With alcohol abuse on the rise, many co-parents are turning to the system committed to providing proof, protection, and peace of mind. Soberlink's alcohol monitoring system is the most convenient, reliable, and reasonable way for a parent to provide evidence that they are not drinking during parenting time.
Soberlink's real-time alerts, facial recognition, and tamper detection ensure the integrity of each test, so you can be confident your kids are with a sober parent. With Soberlink, judges rest assured that your child is safe, attorneys get court-admissible evidence of sobriety, and both parents have empowerment and peace of mind. 
Pull back the curtain on the mysteries of parenting time and trust The Experts in Remote Alcohol Monitoring Technology™ to keep you informed and your kids safe and secure. To download the addiction and children resource page that I developed with Soberlink, visit www.Soberlink.com/Susan
_______
Learn more about working with Bela Gandhi and the team at The Smart Dating Academy at https://smartdatingacademy.com.  Isn't it time to get psychotically optimistic about finding the lid to your pot?!  Don't forget to check out The Smart Dating Academy Podcast with Bela Gandhi while you are there and get your weekly dose of dating and love insights, tips, and inspiration!
*********************************************************************
SPONSORSHIP OPPORTUNITIES ARE AVAILABLE!  https://divorcebeyond.com/Sponsorship-Info
*******************************************************************
MEET OUR CREATOR AND HOST:
SUSAN GUTHRIE®, ESQ., the creator and host of The Divorce and Beyond® Podcast, is nationally recognized as one of the top family law and divorce mediation attorneys in the country.  Susan is the Vice Chair of the American Bar Association Section of Dispute Resolution and is a sought-after keynote speaker, business and practice consultant, coach and trainer. You can find out more about Susan and her services here:  https://neon.page/susanguthrie
Internationally renowned as one of the leading experts in online mediation, Susan created her Learn to Mediate Online® program and has trained more than 25,000 professionals in how to transition their practice online.  Susan recently partnered with legal and mediation legend, Forrest "Woody" Mosten to create the Mosten Guthrie Academy which provides gold-standard, fully online training for mediation and collaborative professionals at all stages of their careers.  
Follow Susan Guthrie and THE DIVORCE AND BEYOND PODCAST on social media for updates and inside tips and information:
Susan on LinkedIn: https://www.linkedin.com/in/susaneguthrie/
Susan on Instagram @susanguthrieesq
*********************************************************************
We'd really appreciate it if you would give us a 5 Star Rating and tell us what you like about the show in a review - your feedback really matters to us! 
You can get in touch with Susan at divorceandbeyondpod@gmail.com. 
Don't forget to visit the webpage www.divorceandbeyondpod.com and sign up for the free NEWSLETTER to receive a special welcome video from Susan and more!!
*********************************************************************
DISCLAIMER:  THE COMMENTARY AND OPINIONS AVAILABLE ON THIS PODCAST ARE FOR INFORMATIONAL AND ENTERTAINMENT PURPOSES ONLY AND NOT FOR THE PURPOSE OF PROVIDING LEGAL ADVICE.  YOU SHOULD CONTACT AN ATTORNEY IN YOUR STATE TO OBTAIN LEGAL ADVICE WITH RESPECT TO ANY PARTICULAR ISSUE OR PROBLEM.