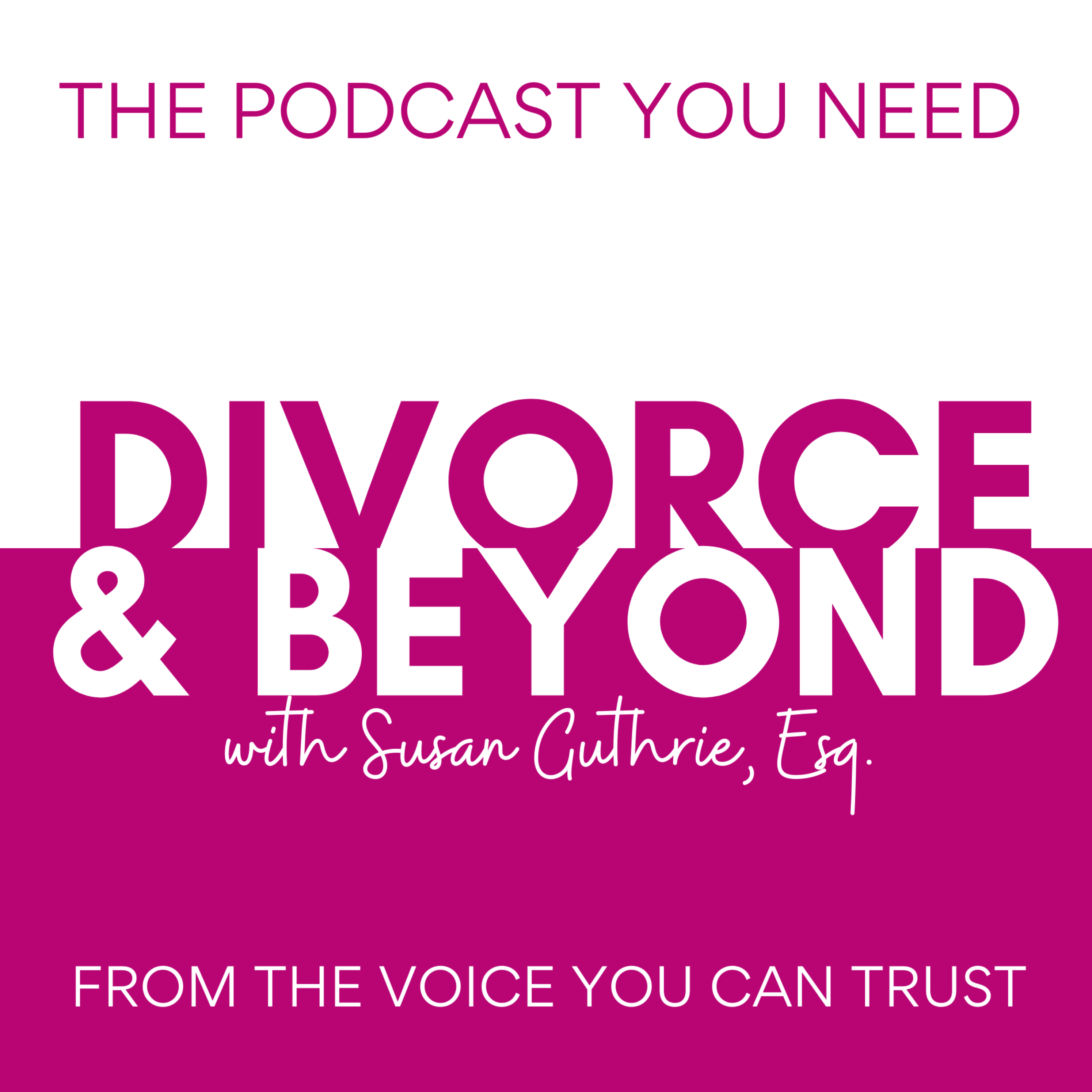 Nationally recognized family law attorney, mediator and award-winning podcaster, Susan Guthrie is at it again! After guiding countless numbers of people through the perilous world of divorce—and speaking to a podcast audience of over 4 million listeners—she's bringing you the "The Divorce & Beyond Podcast" to help you thrive in your life BEYOND divorce!
Episodes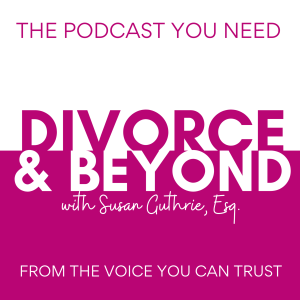 Monday Feb 13, 2023
Monday Feb 13, 2023
This week on The Divorce & Beyond podcast, Susan Guthrie, Esq., welcomes back Intuitive Healer Holly Hughes! Listen in to hear the antidote to the Valentine's Day blues and how to manage the unrealistic expectations of the Hallmark Holiday! 
Valentine's Day can be hard when you are going through a divorce. In this episode, Susan Guthrie and Holly Hughes discuss tactical ways and tips to honor your feelings and not fall victim to the commercialism or beliefs of what the holiday should or needs to be about. 
Topics and Golden Nuggets include:
Why Holly and Susan are NOT wearing red for this Valentine's Day-focused episode

Create your very own love note jar for YOURSELF

Love is lost in the commercialism of Valentine's Day, instead of love from a partner focus on things you love (your children, art, music, etc.) 

Allow yourself to feel your feelings, wallow in them in fact. Then pull yourself out of that space and you'll feel a sense of relief

"In order to feel and receive love, you have to have it for yourself first."

Why it is so important to listen to your inner voice and start recognizing what love actually feels like for you

Joy

is

love. Bring some joy into your life today
****************************************
About this week's special guest: Holly Hughes
Holly is an award-winning author, speaker, and intuitive healer who infuses her unique personal style, intuitive gifts, and personal healing stories to guide clients through a step-by-step process to help them claim their voice, passions, and self-worth. She helps heal your broken heart so the pain from your past stops limiting your future.
Find out more about Holly:  https://hollyhugesintuitive.com
Get a Holly's Book: Real, Not Perfect: How to Become Your Happy Authentic Self
Holly on LinkedIn: https://www.linkedin.com/in/holly-hughes-b759a9136/
DM Holly on Instagram for more information on setting up an intuitive session with her: https://www.instagram.com/holly_hughes_intuitive/
Mentioned in this episode:
It's Time for Some Radical Self-Care to Get You Through Your Divorce with Intuitive Healer, Holly Hughes
Mosten Guthrie Academy: 
The  Mosten Guthrie Academy has a full slate of mediation and collaborative trainings and study groups scheduled for 2023! In fact, our first advanced training is on February 15th!
Visit MostenGuthrie.com to check out all the different ways that you can study and train with us in the coming year and join the Mosten Guthrie family. 
As a special for Divorce and Beyond listeners, if you put in the code DB50  when you register, you'll get $50 off the cost of a training or study group.
**********************************************************
THANK YOU TO OUR SPONSORS: 
Thriving in divorce and beyond means not having to worry about the safety of your children when it comes to co-parenting. With alcohol abuse on the rise, many co-parents are turning to the system committed to providing proof, protection, and peace of mind. Soberlink's alcohol monitoring system is the most convenient, reliable, and reasonable way for a parent to provide evidence that they are not drinking during parenting time.
Soberlink's real-time alerts, facial recognition, and tamper detection ensure the integrity of each test, so you can be confident your kids are with a sober parent. With Soberlink, judges rest assured that your child is safe, attorneys get court-admissible evidence of sobriety, and both parents have empowerment and peace of mind. 
Pull back the curtain on the mysteries of parenting time and trust The Experts in Remote Alcohol Monitoring Technology™ to keep you informed and your kids safe and secure. To download the addiction and children resource page that I developed with Soberlink, visit www.Soberlink.com/Susan  
________
Susan recently launched a new podcast called the Make Money Mediating Podcast!  In this new podcast she shares not only her own tips and insights into building a successful business or businesses, but Susan welcomes some of the top experts in all related fields to share their wisdom to help you build your dream business and achieve success however you define that. 
Tune in, listen and let Susan know what you think – you can find the podcast on all your favorite podcast outlets including Apple Podcasts, Spotify, Audible, Stitcher, and more.
You can also simply visit the website to listen: MakeMoneyMediating.Podbean.com
________
Your divorce, your way. 
Say hello to an easier, kinder, and less expensive divorce. 
They can handle almost every divorce without a court for thousands less than hiring a lawyer. 
Easy, quick online divorce process 

We review, file, and serve for you 

Expert legal and financial help as you go 
Get more information, resources, and support at hellodivorce.com/beyond and receive $100 off your service with the code BEYOND! 
Visit hellodivorce.com/beyond for $100 OFF!
*********************************************************************
SPONSORSHIP OPPORTUNITIES ARE AVAILABLE!  https://divorcebeyond.com/Sponsorship-Info
*******************************************************************
MEET OUR CREATOR AND HOST:
SUSAN GUTHRIE®, ESQ., the creator and host of The Divorce and Beyond® Podcast, is nationally recognized as one of the top family law and divorce mediation attorneys in the country.  Susan is the Vice Chair of the American Bar Association Section of Dispute Resolution and is a sought-after keynote speaker, business and practice consultant, coach and trainer. You can find out more about Susan and her services here:  https://neon.page/susanguthrie
Internationally renowned as one of the leading experts in online mediation, Susan created her Learn to Mediate Online® program and has trained more than 25,000 professionals in how to transition their practice online.  Susan recently partnered with legal and mediation legend, Forrest "Woody" Mosten to create the Mosten Guthrie Academy which provides gold-standard, fully online training for mediation and collaborative professionals at all stages of their careers.  
Follow Susan Guthrie and THE DIVORCE AND BEYOND PODCAST on social media for updates and inside tips and information:
Susan on LinkedIn: https://www.linkedin.com/in/susaneguthrie/
Susan on Instagram @susanguthrieesq
*********************************************************************
We'd really appreciate it if you would give us a 5 Star Rating and tell us what you like about the show in a review - your feedback really matters to us! 
You can get in touch with Susan at divorceandbeyondpod@gmail.com. 
Don't forget to visit the webpage www.divorceandbeyondpod.com and sign up for the free NEWSLETTER to receive a special welcome video from Susan and more!!
*********************************************************************
DISCLAIMER:  THE COMMENTARY AND OPINIONS AVAILABLE ON THIS PODCAST ARE FOR INFORMATIONAL AND ENTERTAINMENT PURPOSES ONLY AND NOT FOR THE PURPOSE OF PROVIDING LEGAL ADVICE.  YOU SHOULD CONTACT AN ATTORNEY IN YOUR STATE TO OBTAIN LEGAL ADVICE WITH RESPECT TO ANY PARTICULAR ISSUE OR PROBLEM.