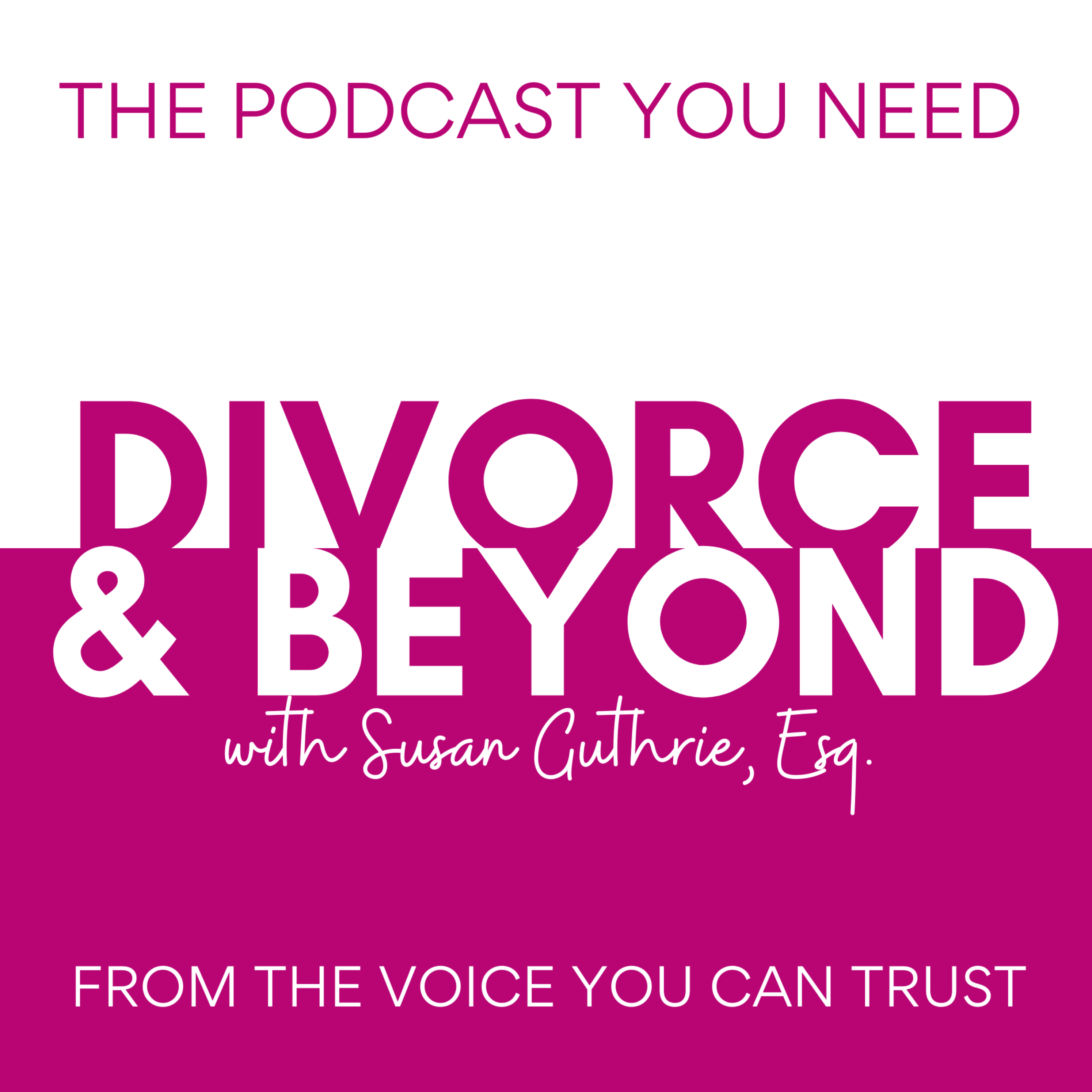 Nationally recognized family law attorney, mediator and award-winning podcaster, Susan Guthrie is at it again! After guiding countless numbers of people through the perilous world of divorce—and speaking to a podcast audience of over 4 million listeners—she's bringing you the "The Divorce & Beyond Podcast" to help you thrive in your life BEYOND divorce!
Episodes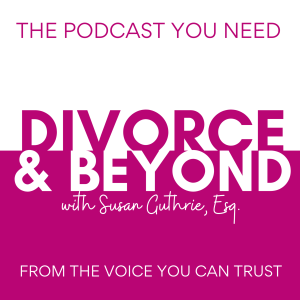 Monday Feb 27, 2023
Monday Feb 27, 2023
This week on The Divorce & Beyond podcast, Susan Guthrie, Esq., welcomes NY Times Best-Selling Author Dr. Shefali as she shares insights from her newest book, "The Parenting Map"
Dr. Shefali is a clinical psychologist and NY Times best-selling author of three books, including Conscious Parenting and The Awakened Family. She joins Susan to discuss her latest book, The Parenting Map, and the importance of integrating all aspects of ourselves into our parenting.
You'll also hear why Dr. Shefali emphasizes the need for parents to work on themselves to support their children fully. The conversation touches on the impact of social media on children's development and the importance of being present and attentive as a parent in a world filled with constant stimulation and comparison. 
Dr. Shefali offers insight and practical advice on how to best navigate conscious parenting and create deeper connections with our children.
Topics and Golden Nuggets include
Why parents must take responsibility for their growth and transformation to become conscious parents. The focus of parenting needs to be on the PARENT.

A perspective shift for parents to focus on their children's relationship with activities rather than their attachment to the outcome

The importance of integrating our shadow elements and not shaming our children for theirs

The impact of screens and social media on children's development includes a lack of ability to tolerate frustration, decreased attention span, and disconnection from reality and their own feelings.
****************************************
About this week's special guest: Dr. Shefali
Dr. Shefali received her doctorate in clinical psychology from Columbia University. Specializing in integrating Western psychology and Eastern philosophy, she brings together the best of both worlds for her clients. She is an expert in family dynamics and personal development, teaching courses around the globe. She has written four books, three of which are New York Times best-sellers, including her two landmark books The Conscious Parent and The Awakened Family. Her latest book, The Parenting Map: Step-by-Step Solutions to Consciously Create the Ultimate Parent-Child Relationship, will be available wherever books are sold on February 28, 2023. You can also preorder it now.  

Connect with Dr. Shefali:
Dr. Shefali's website
Dr. Shefali's new book, "The Parenting Map"
Dr. Shefali on Facebook: https://www.facebook.com/doctorshefali
Dr. Shefali onInstagram: https://www.instagram.com/doctorshefali
Dr. Shefali onTikTok: https://www.tiktok.com/@doctorshefali 
Dr. Shefali onYouTube: https://www.youtube.com/c/DrShefali
**********************************************************
THANK YOU TO OUR SPONSORS: 
Your divorce, your way. 
Say hello to an easier, kinder, and less expensive divorce. 
They can handle almost every divorce without a court for thousands less than hiring a lawyer. 
Easy, quick online divorce process 

We review, file, and serve for you 

Expert legal and financial help as you go 
Get more information, resources, and support at hellodivorce.com/beyond and receive $100 off your service with the code BEYOND!  Visit hellodivorce.com/beyond for $100 OFF!
______________
Rediscover YOU created by the team at THRIVE POST DIVORCE. 
It's a 5-lesson master class that's like a book but more interactive with engaging activities, instructional videos and a complete journal.
Step by step, you will learn to identify your strengths, define your core values, develop new habits and build a future focused plan for the next great chapter of your life!
Visit ThrivePostDivorce.com/Register. Enter code "Susan50" for a 50% discount!
______________


Find out more about working with Bela Gandhi and the team at The Smart Dating Academy at https://smartdatingacademy.com.  Isn't it time to get psychotically optimistic about finding the lid to your pot?!  Don't forget to check out The Smart Dating Academy Podcast with Bela Gandhi while you are there and get your weekly dose of dating and love insights, tips and inspiration!
*********************************************************************
SPONSORSHIP OPPORTUNITIES ARE AVAILABLE!  https://divorcebeyond.com/Sponsorship-Info
*******************************************************************
MEET OUR CREATOR AND HOST:
SUSAN GUTHRIE®, ESQ., the creator and host of The Divorce and Beyond® Podcast, is nationally recognized as one of the top family law and divorce mediation attorneys in the country.  Susan is the Vice Chair of the American Bar Association Section of Dispute Resolution and is a sought-after keynote speaker, business and practice consultant, coach and trainer. You can find out more about Susan and her services here:  https://neon.page/susanguthrie
Internationally renowned as one of the leading experts in online mediation, Susan created her Learn to Mediate Online® program and has trained more than 25,000 professionals in how to transition their practice online.  Susan recently partnered with legal and mediation legend, Forrest "Woody" Mosten to create the Mosten Guthrie Academy which provides gold-standard, fully online training for mediation and collaborative professionals at all stages of their careers.  
Follow Susan Guthrie and THE DIVORCE AND BEYOND PODCAST on social media for updates and inside tips and information:
Susan on LinkedIn: https://www.linkedin.com/in/susaneguthrie/
Susan on Instagram @susanguthrieesq
*********************************************************************
We'd really appreciate it if you would give us a 5 Star Rating and tell us what you like about the show in a review - your feedback really matters to us! 
You can get in touch with Susan at divorceandbeyondpod@gmail.com. 
Don't forget to visit the webpage www.divorceandbeyondpod.com and sign up for the free NEWSLETTER to receive a special welcome video from Susan and more!!
*********************************************************************
DISCLAIMER:  THE COMMENTARY AND OPINIONS AVAILABLE ON THIS PODCAST ARE FOR INFORMATIONAL AND ENTERTAINMENT PURPOSES ONLY AND NOT FOR THE PURPOSE OF PROVIDING LEGAL ADVICE.  YOU SHOULD CONTACT AN ATTORNEY IN YOUR STATE TO OBTAIN LEGAL ADVICE WITH RESPECT TO ANY PARTICULAR ISSUE OR PROBLEM.