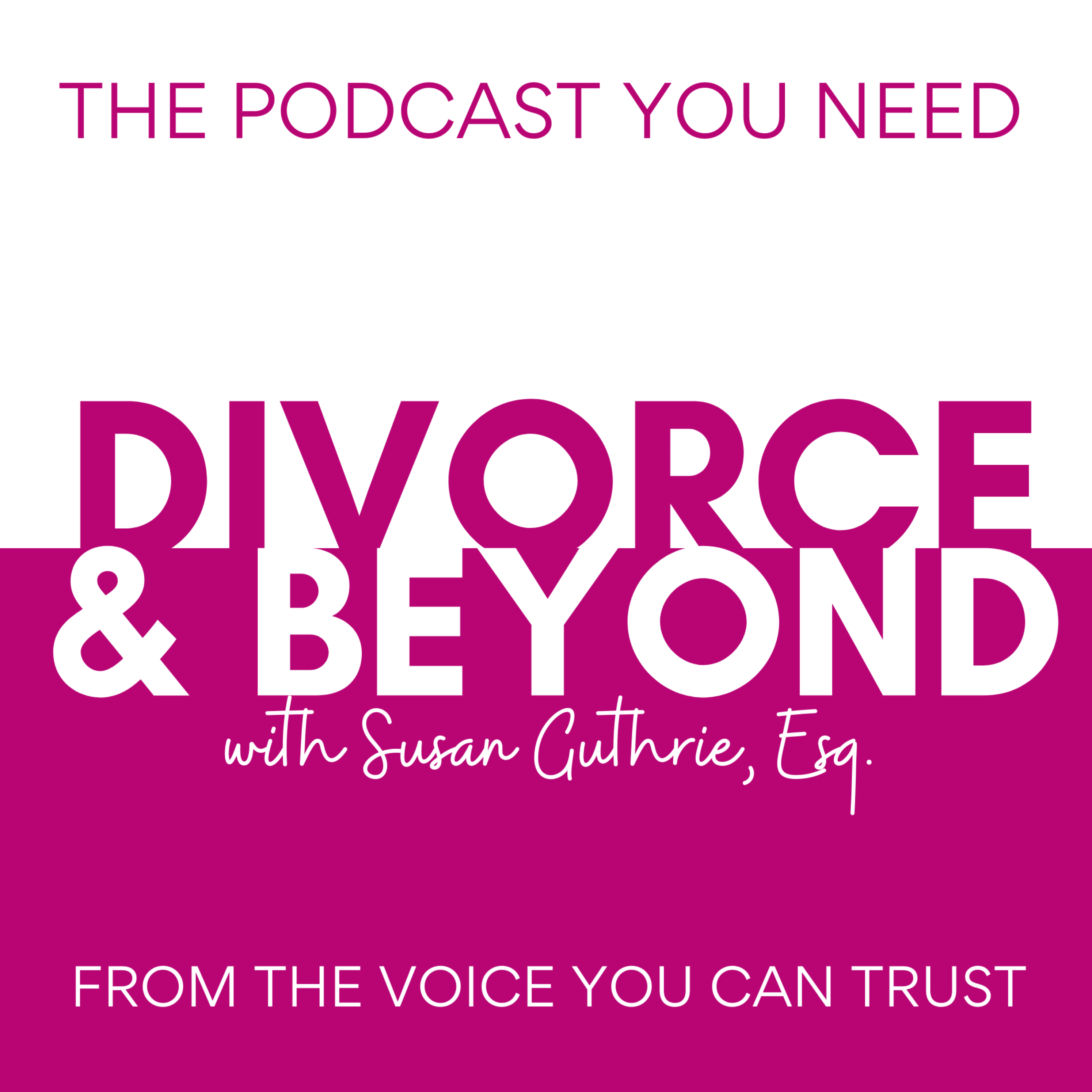 Nationally recognized family law attorney, mediator and award-winning podcaster, Susan Guthrie is at it again! After guiding countless numbers of people through the perilous world of divorce—and speaking to a podcast audience of over 4 million listeners—she's bringing you the "The Divorce & Beyond Podcast" to help you thrive in your life BEYOND divorce!
Episodes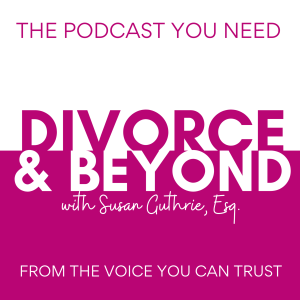 Thursday Feb 02, 2023
Thursday Feb 02, 2023
In this special Bonus Episode, Susan Guthrie, Esq., welcomes back the founders of The Divorce Coaches Academy, Debra Doak and Tracy Callahan, who share their insights into the biggest mistakes people make in divorce and how a good divorce coach is the antidote!
Divorce coaching is on the rise and for a good reason, they are invaluable in helping you get through but how do you know who to hire?  Well, you can start with a certified divorce coach.  Someone who has the training and the background to help guide you on your path.  Debra and Tracy, both experienced divorce coaches and mediators, are dedicated to helping divorce coaches be the best that they can be to help them ensure that each and every client going through divorce gets the support that they need.  To that end they joined together to found the Divorce Coaches Academy (DCA) and are just launching their brand new, innovative 40-Hour Divorce Coaching Certification Course.  With an alternative dispute resolution approach to coaching, individuals who complete this training will be ready and able to provide the best services possible and to help their clients navigate divorce in the best way possible.
Topics and Golden Nuggets include:
Why it's important to understand that not everyone who behaves poorly in divorce is a narcissist and how labeling can hurt you.

Why a coach is invaluable in preparing you to deal with conflict so that you can manage your divorce process, and life beyond, using new skills.

How someone who is facing divorce can find the right divorce coach to help them get through the process.
Thinking of becoming a divorce coach?  Hear why the new DCA program is the way to get started!
****************************************
About The Divorce Coaches Academy and Their 40-Hour Certification Training:
If you're looking to expand your practice offerings, divorce coaching may be a great fit for you. Divorce Coaches Academy™ is introducing a revolutionary approach to divorce coaching and is now accepting applications for the March Cohort of Certified ADR Divorce Coach training.
Divorce coaching is recognized by the ABA as a method of alternative dispute resolution and DCA™ believes that those who engage the services of a certified, professional divorce coach are more likely to show up as credible, decision-ready clients who have the skills to engage in productive conversation, self-advocate, present proposals, negotiate, and get to agreement.
Divorce Coaches Academy™ is the only organization that trains and certifies divorce coaches who are focused on and grounded in the principles of ADR and has been at the forefront of embracing the shift from litigation to mediation and other ADR processes to help families navigate divorce and co-parenting. DCA™ is committed to providing the formal education and training you need to add effective divorce coaching skills to your toolbox. Working at the individual level, you can have a positive impact on the lives of clients and their families as a trusted resource and compliment to the divorce team. 
No other divorce coach training program provides the ADR foundation, conflict resolution skills, structured coaching framework, and professional mentorship you need to confidently step into the world of professional divorce coaching. DCA's revolutionary training program includes a hybrid of video, workbook, and live learning plus mentor coaching and is:
Aligned with the shift toward ADR practices to help families avoid the cost and stress of litigation
Committed to the belief that emotional management and conflict resolution skills can be learned
Focused on the idea that transformation at the individual level is the key to successful outcomes
If you've considered adding divorce coaching to your practice or your skill set, you can learn more at https://www.divorcecoachesacademy.com/pages/divorcecoach
********************************
Susan recently launched a new podcast called the Make Money Mediating Podcast!  In this new podcast she shares not only her own tips and insights into building a successful business or businesses, but Susan welcomes some of the top experts in all related fields to share their wisdom to help you build your dream business and achieve success however you define that. 
Tune in, listen and let Susan know what you think – you can find the podcast on all your favorite podcast outlets including Apple Podcasts, Spotify, Audible, Stitcher, and more.
You can also simply visit the website to listen: MakeMoneyMediating.Podbean.com
*********************************************************************
SPONSORSHIP OPPORTUNITIES ARE AVAILABLE!  https://divorcebeyond.com/Sponsorship-Info
*******************************************************************
MEET OUR CREATOR AND HOST:
SUSAN GUTHRIE®, ESQ., the creator and host of The Divorce and Beyond® Podcast, is nationally recognized as one of the top family law and divorce mediation attorneys in the country.  Susan is the Vice Chair of the American Bar Association Section of Dispute Resolution and is a sought-after keynote speaker, business and practice consultant, coach and trainer. You can find out more about Susan and her services here:  https://neon.page/susanguthrie
Internationally renowned as one of the leading experts in online mediation, Susan created her Learn to Mediate Online® program and has trained more than 25,000 professionals in how to transition their practice online.  Susan recently partnered with legal and mediation legend, Forrest "Woody" Mosten to create the Mosten Guthrie Academy which provides gold-standard, fully online training for mediation and collaborative professionals at all stages of their careers.  
Follow Susan Guthrie and THE DIVORCE AND BEYOND PODCAST on social media for updates and inside tips and information:
Susan on LinkedIn: https://www.linkedin.com/in/susaneguthrie/
Susan on Instagram @susanguthrieesq
*********************************************************************
We'd really appreciate it if you would give us a 5 Star Rating and tell us what you like about the show in a review - your feedback really matters to us! 
You can get in touch with Susan at divorceandbeyondpod@gmail.com. 
Don't forget to visit the webpage www.divorceandbeyondpod.com and sign up for the free NEWSLETTER to receive a special welcome video from Susan and more!!
*********************************************************************
DISCLAIMER:  THE COMMENTARY AND OPINIONS AVAILABLE ON THIS PODCAST ARE FOR INFORMATIONAL AND ENTERTAINMENT PURPOSES ONLY AND NOT FOR THE PURPOSE OF PROVIDING LEGAL ADVICE.  YOU SHOULD CONTACT AN ATTORNEY IN YOUR STATE TO OBTAIN LEGAL ADVICE WITH RESPECT TO ANY PARTICULAR ISSUE OR PROBLEM.