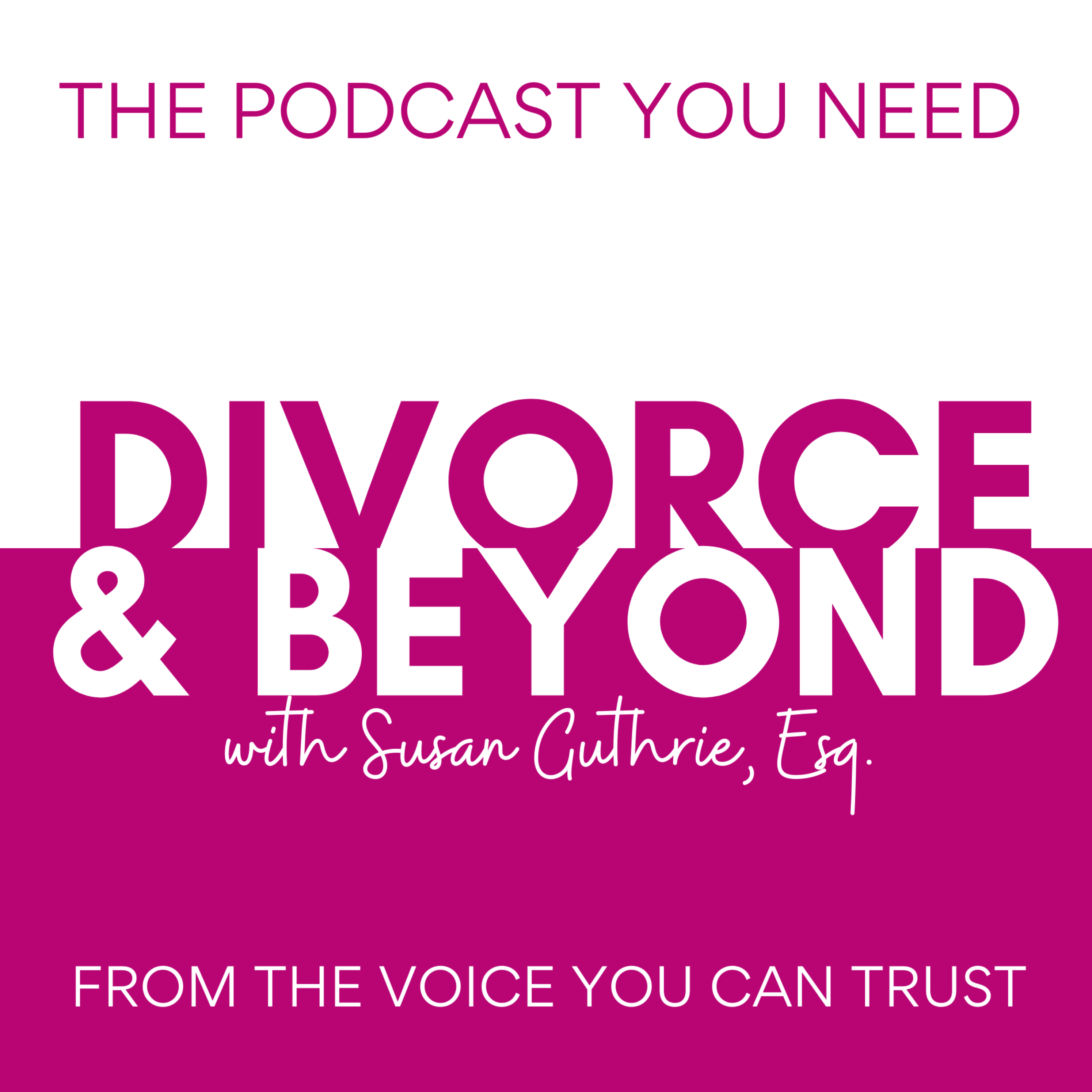 Nationally recognized family law attorney, mediator and award-winning podcaster, Susan Guthrie is at it again! After guiding countless numbers of people through the perilous world of divorce—and speaking to a podcast audience of over 4 million listeners—she's bringing you the "The Divorce & Beyond Podcast" to help you thrive in your life BEYOND divorce!
Episodes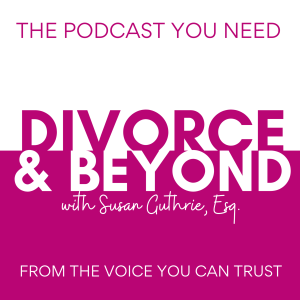 Monday Mar 20, 2023
Monday Mar 20, 2023
Susan Guthrie, Esq. welcomes Zachary Taylor to the Divorce & Beyond podcast! Learn the facts that you need to know when you are facing divorce and have to deal with one or more mortgages. It's more complicated than you think, and in this case, knowledge is power.

Did you know mortgages can be one of the most important factors in your divorce? Knowing what to expect will help you move through your divorce (and beyond) with clarity and understanding. In addition, if you have the right mortgage broker, you can make agreements that benefit everybody.
Guest Zachary Taylor is a mortgage lender with 30 years of experience. Over 25% of his business involves people in some phase of the divorce process. 
Topics and Golden Nuggets include
Some ways mortgage lending and the lending paperwork are different when facing divorce 

When it comes to mortgage loans, if you are receiving custodial or alimony support payments, you must prove that you have been receiving them for six months, NOT that you are supposed to be receiving it

Do not wait until the middle of the divorce process or later to meet with a mortgage lender because you can give yourself more options as you negotiate your divorce if you understand what your borrowing power is

"Information is your superpower."

Common mortgage and financial mistakes people make during divorce and how to avoid them
****************************************
About this week's special guest:  Zach Taylor
Zachary Taylor is a mortgage lender with 30 years of experience. Over 25% of his business involves people in some phase of the divorce process. 
Zach knows the divorce guidelines and can access programs from his company (Change Home Mortgage) and programs from dozens of other banks, lenders, and Wall Street investment firms. This allows him to achieve his main goals for his clients: Get them the best rate, and one that fits their situation, that can be approved, and that can be closed within the required time-frames. 
The division of real estate property in a divorce can be challenging to navigate. Contacting Zach as early in the process as possible helps people to have a more seamless experience. He will determine if you can do a buyout or will have to sell.  He will also determine if you can buy a new property based on your "post-divorce" situation using the buyout or sale proceeds. This can save time and prevent unexpected difficulties  during the settlement process. 
Zach has  experience helping people who are going through divorce to better understand and determine the issues involving property and mortgages. Zach shares a common mission with the other professionals in the Carlsbad Hub: to provide information and support so that people can feel confident and have peace of mind with the decisions they make in the divorce process. Zach wants to be a valued resource, whether or not a new mortgage is needed, and can also help address issues about credit as well. 
Included in Zach's 30 years of lending experience is a 98% close ratio from 2008 to the present, which happens to be the tightest lending environment ever! He has closed over 2,000 transactions. His background includes underwriting and approving loans. For 16 years, he was Managing Broker, and Partner is a successful local mortgage company. He is a licensed California Real Estate Broker and passed the Federal and State Mortgage tests with all background checks required for the NMLS license. He is a graduate of U.C. San Diego with a B.A. in Economics. 
Phone Zach: 619-813-7908
Email Zach: zach@zachtaylormortgages.com

Mentioned in this episode:
The Nightmare of Shared Expenses for Co-Parents and the Simple Tech Solution That Solves it with the Co-Founder of DComply, Marco Munoz
Laura McGee - Mediation Services - Southern CA
*****************************************
THANK YOU TO OUR SPONSORS: 
Your divorce, your way. 
Say hello to an easier, kinder, and less expensive divorce. 
They can handle almost every divorce without a court for thousands less than hiring a lawyer. 
Easy, quick online divorce process 

We review, file, and serve for you 

Expert legal and financial help as you go 
Get more information, resources, and support at hellodivorce.com/beyond and receive $100 off your service with the code BEYOND!  Visit hellodivorce.com/beyond for $100 OFF!
_______
Learn more about working with Bela Gandhi and the team at The Smart Dating Academy at https://smartdatingacademy.com.  Isn't it time to get psychotically optimistic about finding the lid to your pot?!  Don't forget to check out The Smart Dating Academy Podcast with Bela Gandhi while you are there and get your weekly dose of dating and love insights, tips, and inspiration!
*********************************************************************
SPONSORSHIP OPPORTUNITIES ARE AVAILABLE!  https://divorcebeyond.com/Sponsorship-Info
*******************************************************************
MEET OUR CREATOR AND HOST:
SUSAN GUTHRIE®, ESQ., the creator and host of The Divorce and Beyond® Podcast, is nationally recognized as one of the top family law and divorce mediation attorneys in the country.  Susan is the Vice Chair of the American Bar Association Section of Dispute Resolution and is a sought-after keynote speaker, business and practice consultant, coach and trainer. You can find out more about Susan and her services here:  https://neon.page/susanguthrie
Internationally renowned as one of the leading experts in online mediation, Susan created her Learn to Mediate Online® program and has trained more than 25,000 professionals in how to transition their practice online.  Susan recently partnered with legal and mediation legend, Forrest "Woody" Mosten to create the Mosten Guthrie Academy which provides gold-standard, fully online training for mediation and collaborative professionals at all stages of their careers.  
Follow Susan Guthrie and THE DIVORCE AND BEYOND PODCAST on social media for updates and inside tips and information:
Susan on LinkedIn: https://www.linkedin.com/in/susaneguthrie/
Susan on Instagram @susanguthrieesq
*********************************************************************
We'd really appreciate it if you would give us a 5 Star Rating and tell us what you like about the show in a review - your feedback really matters to us! 
You can get in touch with Susan at divorceandbeyondpod@gmail.com. 
Don't forget to visit the webpage www.divorceandbeyondpod.com and sign up for the free NEWSLETTER to receive a special welcome video from Susan and more!!
*********************************************************************
DISCLAIMER:  THE COMMENTARY AND OPINIONS AVAILABLE ON THIS PODCAST ARE FOR INFORMATIONAL AND ENTERTAINMENT PURPOSES ONLY AND NOT FOR THE PURPOSE OF PROVIDING LEGAL ADVICE.  YOU SHOULD CONTACT AN ATTORNEY IN YOUR STATE TO OBTAIN LEGAL ADVICE WITH RESPECT TO ANY PARTICULAR ISSUE OR PROBLEM.