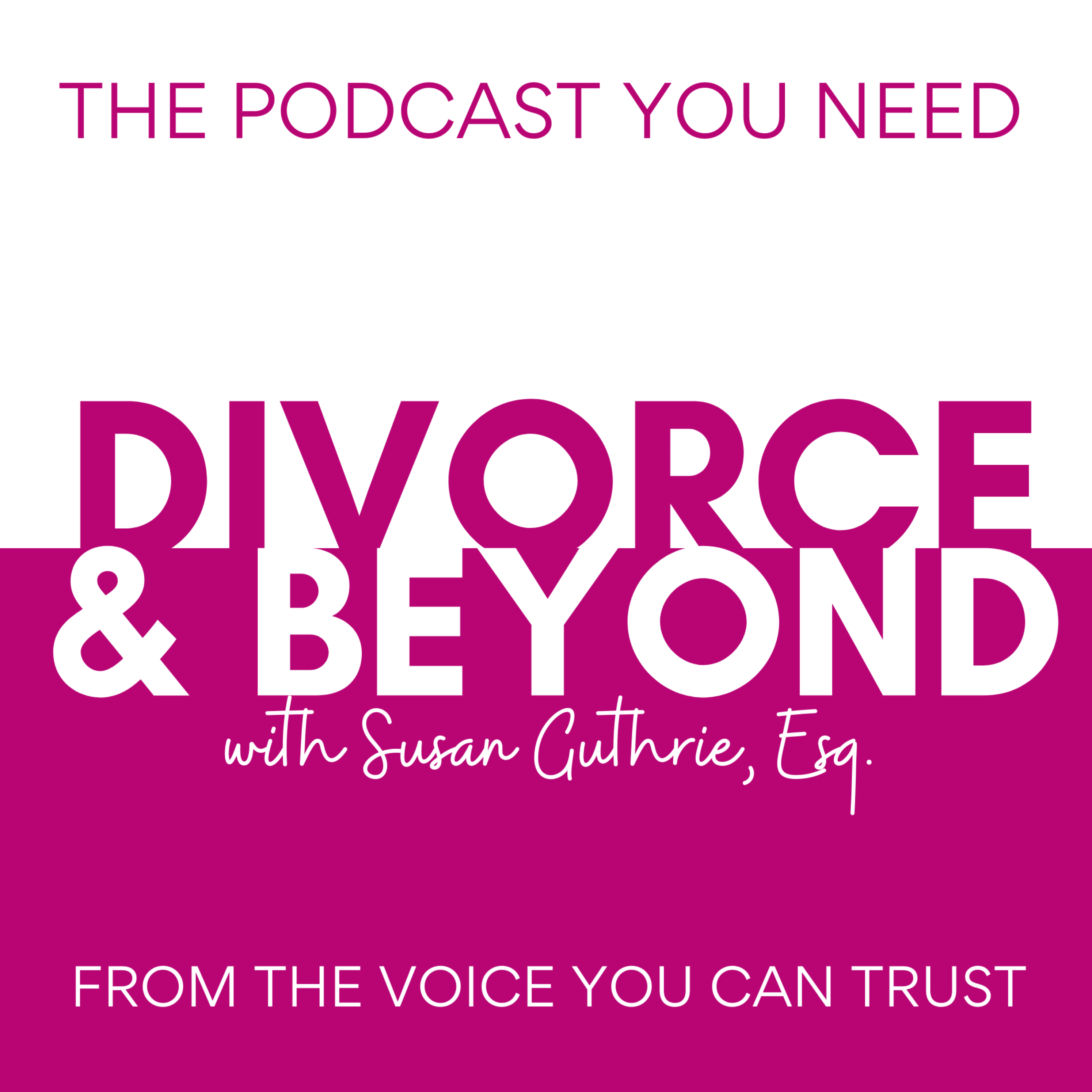 Nationally recognized family law attorney, mediator and award-winning podcaster, Susan Guthrie is at it again! After guiding countless numbers of people through the perilous world of divorce—and speaking to a podcast audience of over 4 million listeners—she's bringing you the "The Divorce & Beyond Podcast" to help you thrive in your life BEYOND divorce!
Episodes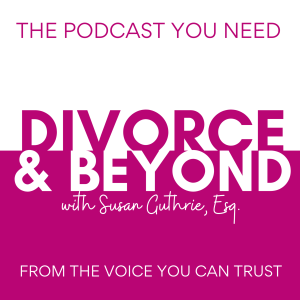 Monday Mar 06, 2023
Monday Mar 06, 2023
This week on The Divorce & Beyond podcast, Susan Guthrie, Esq, welcomes back Ginger Gentile as she shares her tried and true tips for alienated and estranged parents.
Parental alienation is a silent epidemic affecting families all over the United States (and beyond).  Whatever term you choose to use to describe it - parental alienation, estrangement, or parental interference - emotions of alienated and estranged parents are fraught with fear. Often, the experience can be isolating. Parents feel as though there is no recovery, no coming back from this, or they simply don't know what to do.   

In this episode, Ginger Gentile joins Susan to help parents work to reunite with their children after divorce or separation. Together they discuss specific ways to manage emotions and behaviors that will eventually create lasting change and work to heal alienated parents' relationships with their children. 
Topics and Golden Nuggets include
Communication is at the core of how you start reversing parental alienation. 

The importance of emotionally detaching and establishing a brief, informative, friendly, but firm communication with the co-parent 

Why earlier intervention can lead to better outcomes

Focus on your behavior changes and yourself instead of your children's or ex's behavior

"Changes must come from within. It takes time and work."
****************************************
About this week's special guest:  Ginger Gentile
Ginger Gentile is on a mission to save children from the trauma of high-conflict divorce. Her first film on this topic, ERASING DAD, was filmed in Argentina and resulted in joint-custody legislation being enacted. Her latest film, ERASING FAMILY, currently streaming on all major platforms, exposes the trauma children suffer when a loving parent is erased from their lives. This problem affects 22 million families in the US alone.  
In her time serving as the Executive Director of the National Parents Organization in 2019, she added six new state affiliates and garnered national press attention for the Shared Parenting Report Card. Now, she is coaching parents suffering from parental alienation to help them reunite with their erased children GingerGentile.com/consulting 
Her program for replicating the success of reunited families will soon be a podcast, course, and book.
Ginger's website: Reversing Parental Alienation 
Ginger on Instagram @ErasingFamily
Mentioned in this episode:
Erasing Family: Exploring Parental Alienation with Filmmaker, Ginger Gentile
*****************************************
THANK YOU TO OUR SPONSORS: 
Your divorce, your way. 
Say hello to an easier, kinder, and less expensive divorce. 
They can handle almost every divorce without a court for thousands less than hiring a lawyer. 
Easy, quick online divorce process 

We review, file, and serve for you 

Expert legal and financial help as you go 
Get more information, resources, and support at hellodivorce.com/beyond and receive $100 off your service with the code BEYOND!  Visit hellodivorce.com/beyond for $100 OFF!
Learn more about working with Bela Gandhi and the team at The Smart Dating Academy at https://smartdatingacademy.com.  Isn't it time to get psychotically optimistic about finding the lid to your pot?!  Don't forget to check out The Smart Dating Academy Podcast with Bela Gandhi while you are there and get your weekly dose of dating and love insights, tips, and inspiration!
*********************************************************************
SPONSORSHIP OPPORTUNITIES ARE AVAILABLE!  https://divorcebeyond.com/Sponsorship-Info
*******************************************************************
MEET OUR CREATOR AND HOST:
SUSAN GUTHRIE®, ESQ., the creator and host of The Divorce and Beyond® Podcast, is nationally recognized as one of the top family law and divorce mediation attorneys in the country.  Susan is the Vice Chair of the American Bar Association Section of Dispute Resolution and is a sought-after keynote speaker, business and practice consultant, coach and trainer. You can find out more about Susan and her services here:  https://neon.page/susanguthrie
Internationally renowned as one of the leading experts in online mediation, Susan created her Learn to Mediate Online® program and has trained more than 25,000 professionals in how to transition their practice online.  Susan recently partnered with legal and mediation legend, Forrest "Woody" Mosten to create the Mosten Guthrie Academy which provides gold-standard, fully online training for mediation and collaborative professionals at all stages of their careers.  
Follow Susan Guthrie and THE DIVORCE AND BEYOND PODCAST on social media for updates and inside tips and information:
Susan on LinkedIn: https://www.linkedin.com/in/susaneguthrie/
Susan on Instagram @susanguthrieesq
*********************************************************************
We'd really appreciate it if you would give us a 5 Star Rating and tell us what you like about the show in a review - your feedback really matters to us! 
You can get in touch with Susan at divorceandbeyondpod@gmail.com. 
Don't forget to visit the webpage www.divorceandbeyondpod.com and sign up for the free NEWSLETTER to receive a special welcome video from Susan and more!!
*********************************************************************
DISCLAIMER:  THE COMMENTARY AND OPINIONS AVAILABLE ON THIS PODCAST ARE FOR INFORMATIONAL AND ENTERTAINMENT PURPOSES ONLY AND NOT FOR THE PURPOSE OF PROVIDING LEGAL ADVICE.  YOU SHOULD CONTACT AN ATTORNEY IN YOUR STATE TO OBTAIN LEGAL ADVICE WITH RESPECT TO ANY PARTICULAR ISSUE OR PROBLEM.