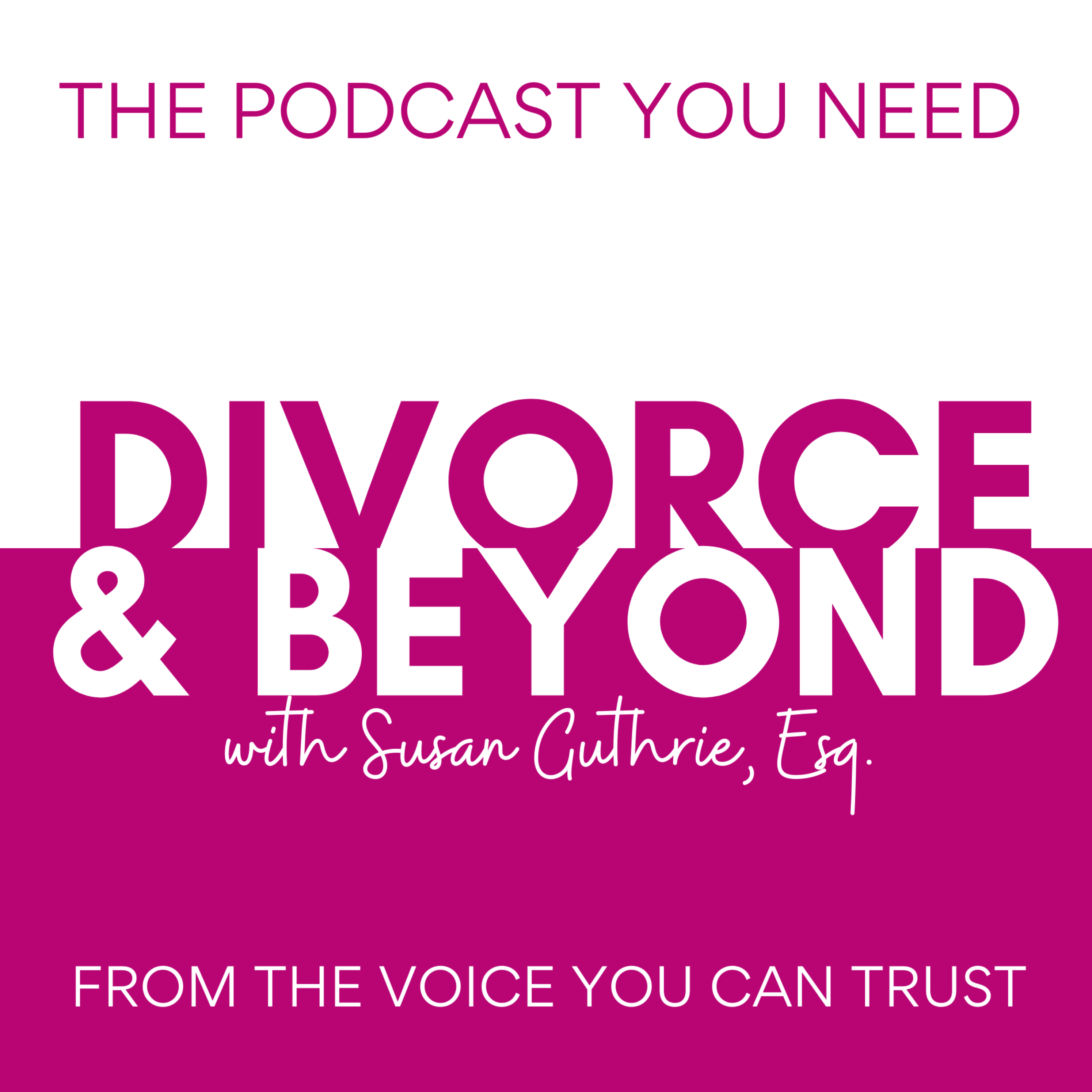 Nationally recognized family law attorney, mediator and award-winning podcaster, Susan Guthrie is at it again! After guiding countless numbers of people through the perilous world of divorce—and speaking to a podcast audience of over 4 million listeners—she's bringing you the "The Divorce & Beyond Podcast" to help you thrive in your life BEYOND divorce!
Episodes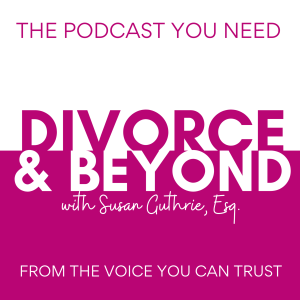 Monday Jan 30, 2023
Monday Jan 30, 2023
This week, Susan Guthrie, Esq., welcomes best-selling author and attorney Kerrie Droban to the Divorce & Beyond Podcast. Kerrie helps you dive into the scary world of divorcing a sociopath or worse, a psychopath.  Who better than a criminal law attorney who has been there herself to help you get through? 
There's a great deal of information about narcissism available today. In this episode, we go beyond narcissism as Kerrie joins Susan to talk about the rise of the sociopath, anti-social personality disorder, and more. Together they get to the crux of divorcing a sociopath including what to expect and how to protect yourself.
Kerrie Droban is an award-winning author and criminal and family attorney residing in Arizona. With numerous appearances and interviews on national television and radio shows, she has established herself as an expert on the pathology of the criminal mind, motorcycle gangs, and a mentor to new and aspiring true crime writers.
Topics and Golden Nuggets include:
What is a sociopath, anyway? Plus, how to identify the difference between a narcissist, sociopath, and psychopath 

The dangers of being in a relationship with a sociopath 

Sociopaths are masters of manipulation - so it is imperative to have a strategy for your divorce, including the need to vet your legal representation and ensure they have experience with sociopathy  

How to protect yourself when divorcing a sociopath

Why Kerrie says mediation is a valuable tool when divorcing someone with pathology 
****************************************
About this week's special guest: Kerrie Droban
Kerrie Droban is an award-winning author and criminal & family attorney residing in Arizona. With numerous appearances and interviews on national television and radio shows, she has established herself as an expert on the pathology of the criminal mind, motorcycle gangs, and a mentor to new and aspiring true crime writers.
Kerrie received a Master's degree from The Johns Hopkins University Writing Seminars, and a Master of Fine Arts and Juris Doctorate from the University of Arizona.
She has been a keynote speaker at gang task force conferences and a national speaker at various writing conferences across the country. She has also appeared on national television on CNBC's "American Greed: A Widow's Web," A&E's "Gangland: Behind Enemy Lines," the American Heroes Channel's "Codes and Conspiracies," "Investigation ID," and the Discovery Channel's "Deadly Devotion."
Mentioned in this episode:
Audible: Did you know that you can now listen to The Divorce & Beyond podcast on your favorite audiobook platform, Audible?  If you are like me and love your audiobooks along with your podcasts, this is a great time to check out Audible memberships – they have two levels: 
Audible Plus and Audible Premium Plus 
You can get a free trial of Audible Plus and if you decide to subscribe to Audible Premium Plus you will also get up to two free audiobooks!   
Check it out today and it makes a great gift too: Audible Gift Memberships 
**********************************************************
THANK YOU TO OUR SPONSORS: 
Are you considering or going through a divorce and have lots of questions, but not a lot of resources? Join Your Divorce Squad's Ultimate Divorce Webinar on Friday, February 3rd!   In one hour you'll go from "I don't know?" to "I've got this!". 
Meet Your Squad: divorce prep specialist Alex Beattie, parenting plan expert Samantha Boss, divorce recovery coach Leah Marie Mazur, and financial coach Eboney Byrne. 
These four sought-after divorce coaches have teamed up to make helping women save time and money during divorce easy and affordable! 
During the webinar you'll be able to ask each coach questions, learn mistakes to avoid, get tips and tools to make your divorce journey easier, gain clarity, and more. Space is limited, so sign up today! 
Learn about the event and register at www.yourdivorcesquad.net.  
Susan recently launched a new podcast called the Make Money Mediating Podcast!  In this new podcast she shares not only her own tips and insights into building a successful business or businesses, but Susan welcomes some of the top experts in all related fields to share their wisdom to help you build your dream business and achieve success however you define that. 
Tune in, listen and let Susan know what you think – you can find the podcast on all your favorite podcast outlets including Apple Podcasts, Spotify, Audible, Stitcher, and more.
You can also simply visit the website to listen: MakeMoneyMediating.Podbean.com
*********************************************************************
SPONSORSHIP OPPORTUNITIES ARE AVAILABLE!  https://divorcebeyond.com/Sponsorship-Info
*******************************************************************
MEET OUR CREATOR AND HOST:
SUSAN GUTHRIE®, ESQ., the creator and host of The Divorce and Beyond® Podcast, is nationally recognized as one of the top family law and divorce mediation attorneys in the country.  Susan is the Vice Chair of the American Bar Association Section of Dispute Resolution and is a sought-after keynote speaker, business and practice consultant, coach and trainer. You can find out more about Susan and her services here:  https://neon.page/susanguthrie
Internationally renowned as one of the leading experts in online mediation, Susan created her Learn to Mediate Online® program and has trained more than 25,000 professionals in how to transition their practice online.  Susan recently partnered with legal and mediation legend, Forrest "Woody" Mosten to create the Mosten Guthrie Academy which provides gold-standard, fully online training for mediation and collaborative professionals at all stages of their careers.  
Follow Susan Guthrie and THE DIVORCE AND BEYOND PODCAST on social media for updates and inside tips and information:
Susan on LinkedIn: https://www.linkedin.com/in/susaneguthrie/
Susan on Instagram @susanguthrieesq
*********************************************************************
We'd really appreciate it if you would give us a 5 Star Rating and tell us what you like about the show in a review - your feedback really matters to us! 
You can get in touch with Susan at divorceandbeyondpod@gmail.com. 
Don't forget to visit the webpage www.divorceandbeyondpod.com and sign up for the free NEWSLETTER to receive a special welcome video from Susan and more!!
*********************************************************************
DISCLAIMER:  THE COMMENTARY AND OPINIONS AVAILABLE ON THIS PODCAST ARE FOR INFORMATIONAL AND ENTERTAINMENT PURPOSES ONLY AND NOT FOR THE PURPOSE OF PROVIDING LEGAL ADVICE.  YOU SHOULD CONTACT AN ATTORNEY IN YOUR STATE TO OBTAIN LEGAL ADVICE WITH RESPECT TO ANY PARTICULAR ISSUE OR PROBLEM.